Geography Of Bhutan
---
Bhutan, a land locked country, lies between the longitudes 88 ÌŠ 45` and 92ÌŠ 10' east and between the latitude 26ÌŠ 40' and 28ÌŠ 15' north. It is located in Eastern Himalayan slopes and has a land area of 38394 square kilometers. It is bordered by India to the south, west and east and China to the north. It is also known as Drukyul, the land of Thunder Dragon.
---
Bhutan - Topography
---
Geographically, Bhutan can be divided into three zones; Greater Himalayas, Inner Himalayas and Southern Foothills.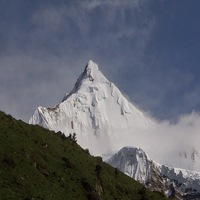 The Himalayan mountain ranges which runs between China and Bhutan constitute the the northern zone or the Greater Himalayas. This range dominates the northern region of Bhutan where peaks can reach to heights of 7000 square meters. Gangkhar Puensum (height – 7570 Square Meters) located in this range is considered to be the highest unclimbed mountain of the world. In 1994, it was closed to climbers, along with all other peaks in Bhutan higher than 6,000m (19,800ft) out of respect for local spiritual beliefs. The other key mountain in this range is Mount Jomolhari. The vegetation in this region is mostly alpine which comprises of some flowering plants, moss, lichen, dwarf rodhodendrons, etc. This area is also home to many rare animals such as musk deer, brown bear, wild sheep, wild goats, snow leopard, etc.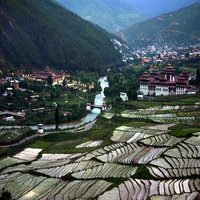 Also known as "Lesser Himalayas", Inner Himalayas range lies to the south of high peaks. This region is categorized by maze of broad valleys and forested hillsides. This is the largest physiography of Bhutan and all the major towns like Thimphu lies in this range. This part of the Bhutan is cut by deep ravines formed by fast flowing rivers whose source lies in the Greater Himalayas. A range called Black Mountains lie to the East of Sankosh river, midway between Punakha and Trongsa. Pele La Pass on the way to Phobjika is the most important pass in this region. This is a temperate zone and forests of Oak, Pine etc are found here.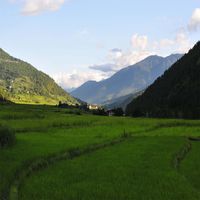 South of the Lesser Himalayas, lies the Southern Foothills also known as Himalayan Foothills. It extends over the Indo Bhutan Border. It rises from the Indian Plain in the South at 600 metres and then in a steep escarpment rises to more than 1500 meters. This region is characterized by hot, humid climate with warm summer and has dense vegetation. It is largely agriculture land, producing mostly rice. Maximum of Bhutan's arable land is found in this region. Comparatively this region has better road infrastructure with low transport costs.
Political Geography of Bhutan
---
Bhutan is divided into 20 districts politically. The districts (Dzongkhas) are; Paro, Haa, Samtse, Chhukha, Thimphu, Wangduephodrang, Punakha, Gasa, Tsirang, Sarpang, Samdrupjongkhar, Zhemgang, Trongsa, Bumthang, Mongar, Trashigang, Trashiyangtse, Pemagatshel, Lhuntse, Dagana. Some of these Dzongkhas are further divided into Dungkhas (Sub Districts). All the Dzongkhas are further divided into gewogs (Village Blocks). The Gewogs are further divided into Chiwogs (group of villages) and thromdes (municipalities)